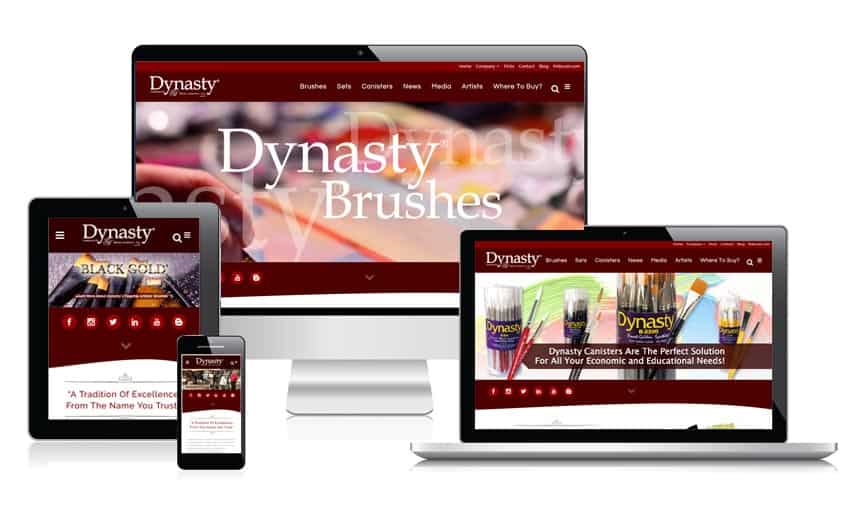 15 Jun

Welcome to the New Dynasty Brush Website!

Welcome to dynastybrush.com, the brand new website for Dynasty brushes by the FM Brush Company. Our handmade American brushes are constructed using precise quality standards and state of the art production techniques. We have created a whole new mobile friendly responsive website, featuring the full line of Dynasty Artist, Craft, Scholastic and Industrial brushes. From Fine Kolinsky, Quills, Symmetry, and our flagship Black Gold brushes to special value priced Eye of Tiger, Dynasty Canisters and Faux Squirrel brushes that will perform beyond your expectations, with a wide variety and selection to fit every budget. Our higher quality control standards ensure customer satisfaction with every one of our brushes while remaining superior in value, appearance, and most of all, performance.

Dynasty Brushes are proudly manufactured by The FM Brush Company, the only family run American brush producer in the world. We are the premiere manufacturer of artist, cosmetic, craft, hobby and custom-made brushes. Originally established in 1929 by Frederick Mink, the FM Brush Company has been creating high quality brushes for over 85 years. Since then, four generations of the Mink family have led the FM Brush Company to become a global leader of brush manufacturing to leading names in multiple creative industries.

Please explore all the new features and information that we have for you here at dynastybrush.com. From Instructional Videos and BLack Gold Techniques to our Brushes and Featured Artists, we have enhanced how you can interact with Dynasty. Be sure to visit out brand new Distributor Map to see where you can buy all the great Dynasty brushes in your area.

Thank you for visiting!